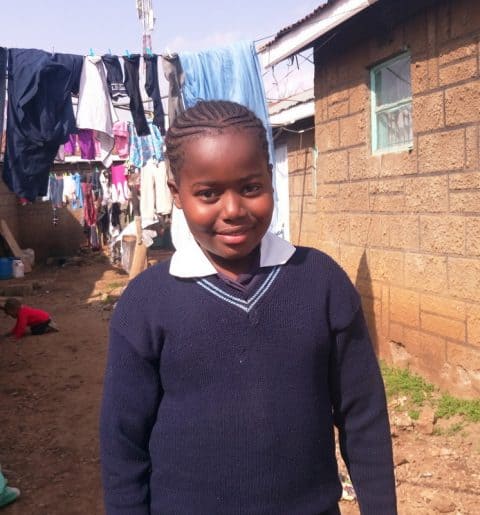 Cheryl Adhiambo is ten years old. She was born on 19th, May 2009. The child lives with her parents in Wanyee close in Satellite area which is densely populated. The child's father has tested HIV/AIDS positive and while the mother is not. They are basically a discordant family. The child just like the mother has also not tested HIV/AIDS positive. Cheryl's father is a carpenter in the area while the mother sells fish on a small scale in the community too. Their income is megre and therefore, they have to forego some needs when needs arise due to lack of enough money. This is a big hindrance to the progress of the child as the parents would wish to see. They are however optimistic that things will change in the near future and that they will be able to fully provide for their children when they need something.
The family lives in Wanyee close in Satellite area. It is densely populated and therefore full of activities from the various people who are trying to make ends meet at the end of the day. They live in a double room house that is made of bricks and which has electricity connected to it. The child is, therefore, able to read at night without a hitch.  Cheryl shares a bed with her other siblings every night. It is a double decker bed. They have two plastic chairs and a small table at the center of the room. The family uses a gas cooker to make their meals as it is the most affordable to the family. They fetch water from the nearest water vendors at a cost of KSH 10 per twenty liters jerican. The family shares washrooms with their good friends because their house is not self-contained.
Cheryl is in class five (5) at Kinyanjui (Gichagi) Primary school. Cheryl would like to be a nurse when she finishes school. She would like to take care of the sick in the community. She is looking forward to being a good one for that matter despite the fact that she has difficulty in going to school due to lack of enough money to cater for all her needs at school. The child was able to get a total of 405 in her recent selection interview. She will most likely join Jagiet Academy when she joins the program. Here, she will be able to benefit from education sponsorship with the hope of becoming somebody substantial in the community.