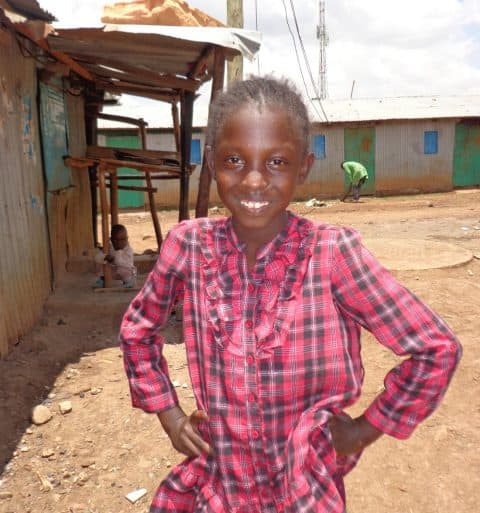 Esther Chebet was born on 31st, August, 2010. Chebet and the family and the family come from the Satellite area. This is a densely populated area that has lots of activities from different people. The child's family is also not an exception and therefore, the child's mother also has to do work just like the rest of the community so as to be able to cater for the family. She is the sole breadwinner of the family. She is not permanently employed. She is a volunteer peer educator in the community. The little income that she is given is the one that she uses for family upkeep. In most cases, the income got is usually never enough. They, therefore, have to forego some needs. She is however optimistic that she will be doing well in the near future so that she can be able to fully cater for the family.
The family lives in a single-room house that is made of iron sheets and timber. The house is stuffy and small, they have therefore put their stuff and tried to arrange them so that they can be able to fit in well. There is electricity at home and therefore, Chebet, her mother, cousin, and aunt are able to use the light at night. Chebet and the mother share a bed with the mother each night. Their house is not self-contained and they, therefore, have to fetch water for domestic use from the nearest water vendors at Ksh.10 per twenty liters jerican. In the plot, washrooms are also shared by the neighbors. They prepare their meals using either a gas cooker or a kerosene stove as they are the most affordable.
Chebet goes to school at Satellite Primary school. She is in class four and is doing well. In her recent selection interview, Chebet managed to score a total of 466 out of a possible 500 marks. She would like to become a teacher in the future so that she can be able to help treat the sick in the community. When she gets a sponsor, Chebet will join Jagiet Academy, which is one of our focus schools and therefore be able to benefit from quality education.