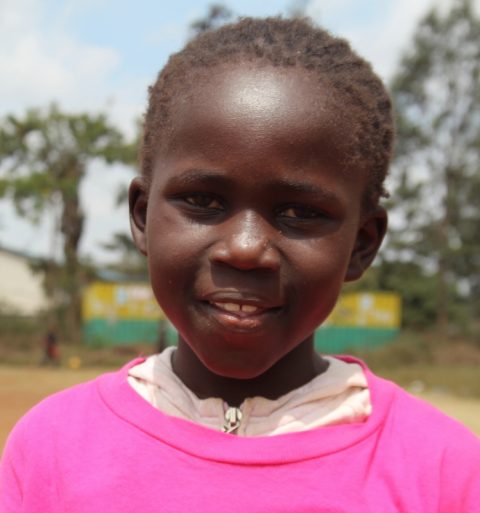 Catherine was born on 4/1/2008. She is in fifth grade at Jagiet Academy (boarding). Catherine joined the program in October 2016, she was then in second grade. Her sponsor recently abjured, she, therefore, needs another sponsor. Despite a challenging poverty-stricken family background, Catherine is doing well in her studies she scored 382 marks out of 500 marks, this was a drop from 422 marks due to some difficulty her family was passing through. Catherine would love to become a veterinary doctor when she grows up.
Their house is made of iron sheets and it is a single-roomed house. Their home compound is untidy, the family rear's few chickens as a form of an extra income. The security is not that good, following an attack at their neighbor's house last year. They have an electricity connection. There is no running water in the compound so they buy at 10 shillings per 20 liters jerry can from a nearby water vendor. They prepare their meals using a kerosene stove and sometimes a charcoal stove. They are seven (7) members in the family. They use a bed sheet to separate the sitting area which also doubles as a kitchen and the parents' bedroom. They only have one bed which the parents and their young daughter share.
Catherine and her three siblings sleep on a wooden couch and on the floor where they place a mattress during the nights. They pay rent of three thousand Kenya shillings (USD.30) per month. They can only afford two meals a day. They share a pit latrine and bathroom with other neighbors, the facilities are not well maintained. Her mother is currently the sole breadwinner as her father lost his job mid last year therefore he has been relying on occasional casual construction jobs. Her mother sells sardine fish (small fish) by the roadsides in Kawangware slum.