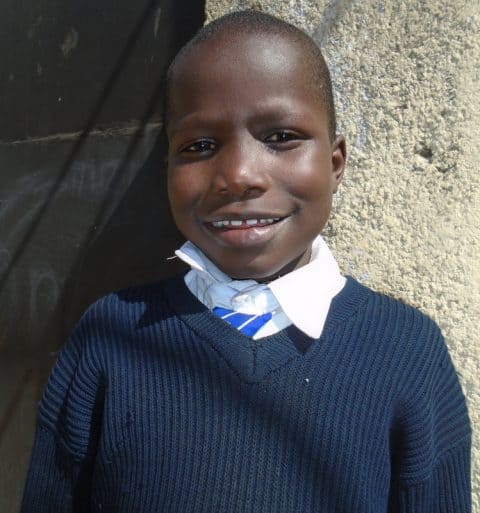 Brian is seven years old, born on 23rd June 2009. He is in third grade at Jagiet primary, a private and one of our focus school. He leaves the house at 7am the walks for 10 minutes to hi school. Both his parents have tested HIV/AIDS positive but he has tested negative. When he joins the program, he will benefit from the improved education, nutrition and community support. His brother Claton Okoth is also in the program.
His favorite story book is 'The magic school'. During his free time he reads story book and revise for his exams. His best friend is called Nickson Wazwa, they are in the same class and he loves him because he help him with a pencil, a sharper or rubber when he does not have one. They also play soccer together at school. He loves singing at the school assembly, his favorite food is chapatti and green grams. His favorite subjects are CRE because he learns more about God and Social studies. During his recent exam he score 410 marks out of a possible 500 marks. Brian would like to become a pilot when he grows up so that he can fly to Tanzania and Uganda.
The family lives in a two roomed wooden house with no electricity. They use a hurricane lamp for lighting during the night. They share latrines and bathroom facilities with their neighbors. They buy water for domestic use from a nearby vendor. They use a kerosene stove or charcoal stove for cooking. During weekends and school breaks Brian and his family can only afford two meals daily. He sleeps on a bed which he shares with his two brothers Claton and Victor. His father is employed as a shop attendance while his mother launders clothes for a fee.