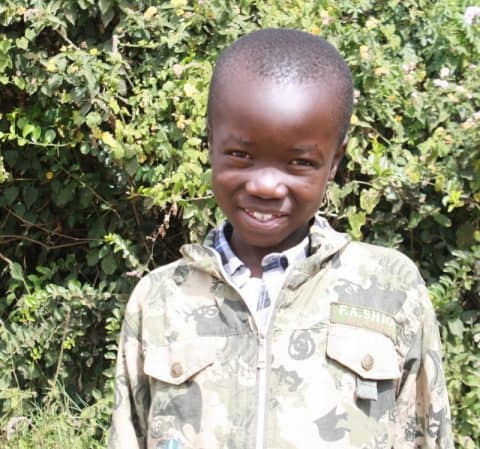 Prince Brevin stays with his grandmother, aunt and three uncles in a single room made of old iron sheets in the slum of Kawangware. Brevin is the only son in the family. The child is eight (8) years old. He was born on 18th, February, 2011. His father left a few years back to an unknown place and Brevine was abandoned by his mother when he was one year old to unknown place. The whereabouts of his mother has proved to be futile since she can't be traced nor no communication has been made since she left. His grandmother is therefore the sole bread winner of the family and who makes things from beads and sells them to earn a living.  This has not been enough to sustain the family needs. This has made the family to at least afford two meals in a day. His grandmother tested positive and has been on ARVS medication since the year 2004.
The family lives in a single room house that is made of iron sheets and timber. Their house is partitioned with curtains and it has a ceiling made of old rags and also on the walls. They use firewood and a times paraffin stove to cook especially during the rainy season. The house has electricity and thus Prince can be able to study even at night. The residential place has no water and thus they buy water from the nearby water vendors at a cost of KSH 10 per 20 liter jerican. They share latrines and bathrooms with other tenants because their house is not self-contained. The place itself is poorly drained and it's worse during the rainy season. They place is equally not secured thus open where people can access and leave unnoticed. Prince developed an eye problem that was treated and he has been using spectacles.
He goes to Tender Foot Academy and he is in grade 3. His dream career is to become a doctor and be able to treat sick people from the community. When he joins the NRCA program, Prince Brevine will be able to join Jagiet Academy which is one of our focus schools and therefore be able to benefit from education sponsorship.