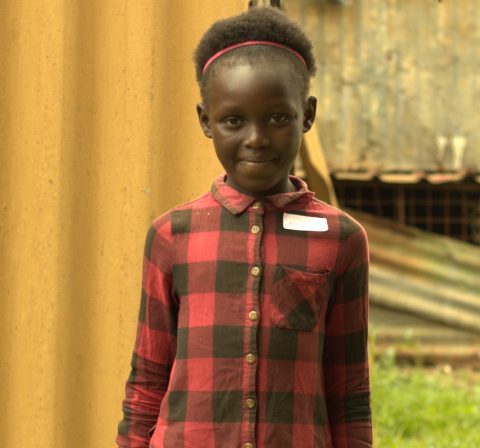 Branice was born on 18th, January 2011. Branice and the family live in the Ngando area. The child stays with the mother who is the sole breadwinner of the family and three other siblings. Their father left the family while Branice was still young and remarried another wife. The mother sells fish in the community so as to make a living and therefore be able to cater for her family. She says that things are tough for her given the fact that her family is fairly big.
The family stays in a single room house made of iron sheets and timber in the slums. It has electricity that they use at night to do their various activities. The house that they stay in is so small but the family has no choice but to stay there because of the money shortage. They share washrooms with their neighbors and get to fetch water from the nearest water vendors at KES10 per twenty liters jerican. The child together with her sister and two brothers sleeps on a mattress that is put on the floor each night. The mother sleeps on the only bed available in the house. They prepare their meals using charcoal jiko as it is the most affordable to the family.
Branice is a student at Talents Academy in Ngando village. She is a grade three student and would like to become a Journalist/News anchor when he is done with her education. The child likes to sing and also role-plays as a journalist during her free time with her friends. During her recent selection interview, the child managed to get a total of 410 out of a possible 500 marks. Should she get a sponsor, the child will be able to attend Nelson Mandela School which is one of our focus schools, and be able to benefit from quality education.