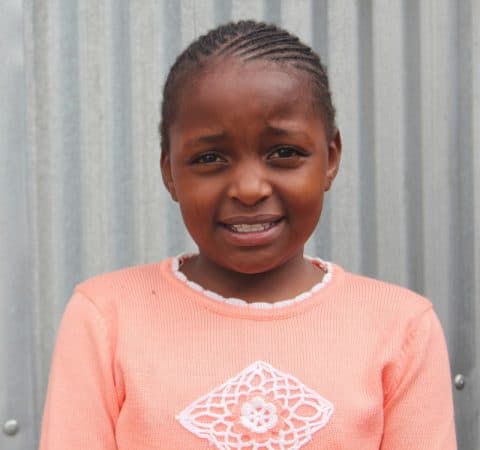 Blessing is nine years old, she was born in May, 5th 2008. She is in fourth grade at Ndurarua primary school in Kawangware slum. When she joins the program she will move to Jagiet academy a private and one of our focus schools.
Blessing lives with her grandmother and elder sister who is 15years old in Kawangware slums. They live in a single room house, she shares a bed with her sister and the grandmother sleeps on the lower bed of the double decker. Her grandmother is a casual laborer, she does laundry for middle class earner homes somewhere near Yaya Centre in Nairobi. Blessing mother left her with her grandmother eight years ago and eloped with a man to Tanzania. She kept communication until 2013 where she went mute and has never returned. Before cutting the communication she had been diagnosed with tuberculosis, her mother hopes that one day she will return home or call back. Her grandmother is HIV/AIDS positive and she is on ARV'S medication. They use a kerosene stove or charcoal stove to prepare their meals. They share latrines with their neighbors. They don't have electricity connection in their house.
Blessing's hobby is skipping rope and netball. Her favorite subject is mathematics because she loves calculation and solving problems, she also said she passes well in the mathematics paper than the rest of the subjects. Her favorite meal is rice and beef. She wants to become a surgeon when she grows up so that she can operate on sick people. She was inspired by her sister's dream to become a doctor. During her recent examination she scored 428 marks out of 500 marks.