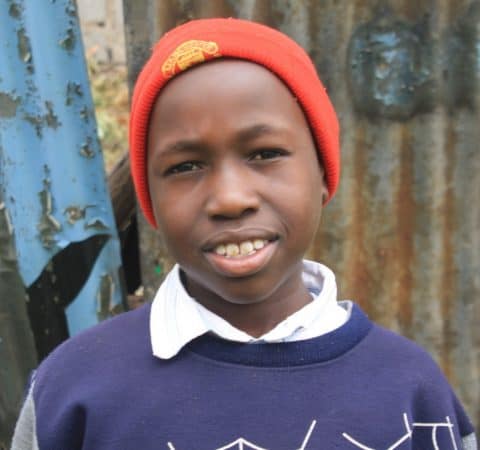 Barrack is nine years old. He was born on 7th November 2008. Currently he is studying at Bridge International Academy in third grade. He lives with his parents and three siblings in Satellite Kwa Maji area, one of the slums in Nairobi. This is a densely populated area with lots of activities which are carried out by the slum dwellers. The father is HIV/AIDS positive and therefore on ARVs medication. However, he HIV negative.
The family lives in a one roomed brick house that is partitioned into four small rooms. The house is connected to electricity which enables him and his siblings to study comfortably during the night. The family has no access to water therefore they buy water for domestic use from the nearest water vendor at a cost of Ksh.5 per 20 liter jerican.The family shares washrooms with their neighbors. With both the parents not being permanently employed, in most cases he gets two meals a day due to lack of enough money.
At home he shares a bed with his siblings at night. They use a kerosene stove to cook meals as it is the most affordable. At home there is a small television set for entertainment. His favorite meal is pilau and chicken stew. He likes playing football and hide and seek during his free time. During the recent selection exam, he was able to score a total of 414 out of a possible 500 marks. When he grows up, he hopes to become a teacher because he wants to teach children on how to behave well and respect adults as he has been taught. When gets sponsorship, he will join Jagiet Academy which is one of our focus schools.