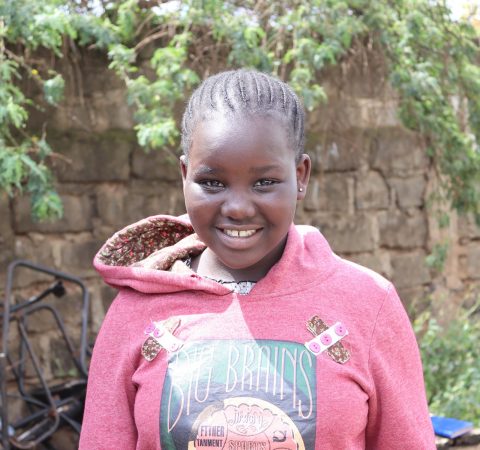 Angela is 12 years old. She was born on 15th, July 2008. The child and the family live in Kawangware slum. The child, her mother, and siblings have been living with their aunt since their parents separated and the father remarried. Their mother could not be able to afford to pay bills alone and therefore, she sought help from her sister who lent them a helping hand. Both the mother and the aunt hustle so as to cater to the fairly large family at the end of the day. They do casual jobs in the community. The mother also does house managing so as to top up. Technically, the family is struggling financially but the mother is still hopeful that all will improve in the future.
At home, the family lives in a single room permanent house that has electricity connected to it. The child is, therefore, able to revise each night and the other family members are able to do their own work too. The child has a mattress that is put on the floor each night and where she sleeps with her younger niece and cousin. The family shares washrooms with their neighbors because their house is not self-contained. They prepare meals using either a kerosene stove or a gas cooker depending on the availability. Water for domestic use is got from the nearest water vendors by the family at Ksh.10 per twenty liters jerrican.
The child is a grade six student at PCEA Kangemi School. She has been having school fee arrears issues and therefore, sent at home in some instances. She dreams of being in school always and therefore be able to become a doctor in the future and be able to treat the sick in society. During the recent selection interview, Angela managed to score a total of 413 out of a possible 500 marks. When she gets a sponsor, Angela will be able to join Jagiet academy which is one of our focus schools and therefore be able to benefit from quality education.