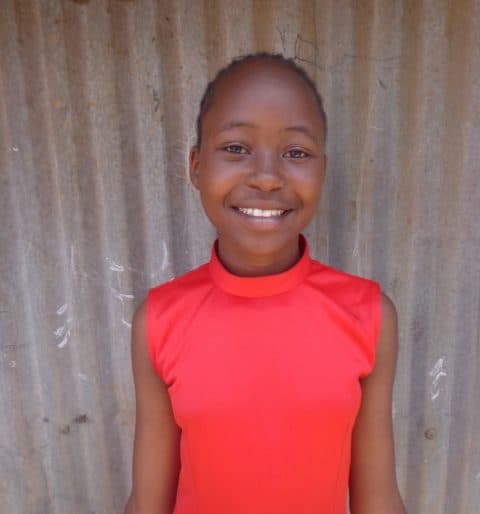 Angela Kwamboka is 11 years old. She was born on 5th, May, 2008. The child lives with her mother together with her other siblings. The family comes from racecourse which is densely populated and therefore full of activities. The child lives with the mother who is HIV/AIDS positive and who is the sole breadwinner of the family. She is not permanently employed as she lost her job as a florist. She therefore has to depend on other works in the area so as to make a living and be able to provide for her children. Living in the city has not been a walk in the park for the family. The family has therefore been forced to skip some needs due to lack of enough money to cater for the needs. She has at times contemplated going back to the countryside because of the job situation in the city. She however hopes that all will be well and that she can be able to fully provide for the family.
Angela and the family lives in a single room house that is made of iron sheets and timber. It's a small house and therefore stuffed inside. At home, Angela is able to conduct her evening studies because there is electricity that is connected. Meals at home are prepared using either gas cooker or kerosene stove as they are the most affordable. They get to fetch water from the nearest water vendors at Ksh.5 per twenty liters a jerican. Their house is not self-contained and therefore, they share washrooms with their neighbors. Each night, Angela shares a bed with her mother.
Angela is a class five student at Nelson Mandela School. In her recent selection interview, the child was able to get a total of 422 out of a possible 500 marks. The child would like to be a doctor and be able to treat the sick in the community once she is done with her education. She will most likely continue with her education at Nelson Mandela School once she gets a sponsor.