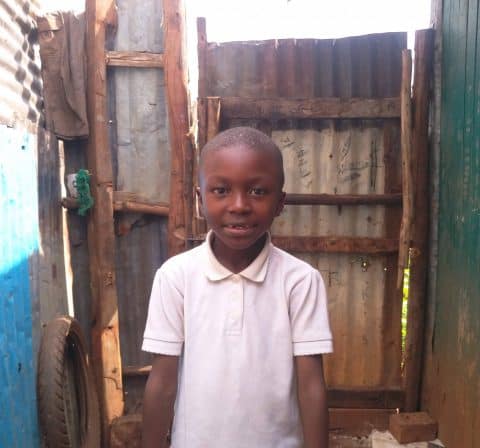 Adrian Baraka is seven years old, born on 2nd June 2012. He is in 2rd grade at St Joseph of Tarbes Academy. He lives in the Ngando area which is one of the slums in Nairobi with his grandmother and cousin. His guardian is HIV positive and under ARV medication. His mother abandoned him at a tender age and no one knows of her whereabouts. When he joins the program he will join Nelson Mandela Academy, a private school which is one of our focus schools. He will benefit from improved education, nutrition, health care, and community support.
The family lives in a single room house made of old iron sheets and by the railway. It is much squeezed at is has been subdivided with a cloth to fit the kitchen, sleeping and cooking area. It has an electric connection hence he can comfortably do his school assignments and private studies. Running tap water is not available hence, they buy it from the nearby vendors at a cost of Ksh 10 per 20 liters jerican. They share a pit latrine and bathroom with other tenants. His grandmother does odd jobs to provide for the family. Most notably, the grandmother hawks coffee and tea leave in the community to make ends meet. Adrian sleeps on a bed which he shares with the cousin and uses a chair and a table to do his homework. They use a charcoal Jiko or kerosene stove for cooking depending on the availability of fuel and mostly because that is the most affordable by the family.
Adrian is a hardworking and bright boy. In the recent selection interview, he was able to score a total of 460 out of a possible 500 marks. His favorite subject is Mathematics. When he grows up she wants to be a pilot and therefore, he is working very hard in school. He loves to play and his favorite games are hidden and seek. His favorite food is rice and beef stew.
Adrian says that he is very happy for sponsorship as he will be able to settle in school and concentrate on his studies.