This fall we were thrilled to welcome Joy Obiya and George to the US as representatives of the staff and students in the program in Kenya.
Joy Obiya
Joy is the head of the post-secondary department and has been a caseworker with us for four years. It was wonderful for Joy to be able to meet with so many sponsors and donors, as well as spend time with our US-based staff especially since we have a growing number of students entering and completing post-secondary. Joy was able to give us a better understanding of the post-secondary environment in Kenya, and was able to help sponsors understand what to expect when their students graduate from High School. In addition to being the head of the post-secondary department, Joy has also taken on the responsibility of running the sexual and reproductive health program and has helped to develop each individual student's plan for success following their high school graduation.
George
George is unique as a beneficiary and caseworker, contributing significantly to our program's success. After joining the program in 2007, George went on to successfully earn his diploma in Community Development at Kenyatta University. This diploma and his history made him a great fit as a primary caseworker in our program. George has an excellent ability to connect with the youngest students and help them feel supported. Having him here
in the U.S. gave sponsors and donors a unique perspective into the life of a student in the program and we all heard and saw firsthand how the experience can change a student's life for the better.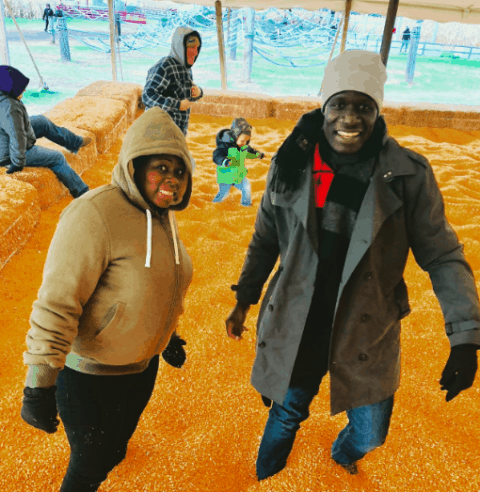 A Busy Schedule
George and Joy visited Minnesota, Iowa, Texas, and the east coast to meet sponsors, donors, and give presentations at churches, school teachers, friends, and family and of course at our annual gathering. They were also able to meet individually with some sponsors and donors and give unique insight regarding the students they sponsor. In addition to these meetings, George and Joy were able to experience a small part of what it's like to live in the midwest –they attended a fall festival/corn maze, went shopping at the Mall of America, and tried lots of new foods. In addition, they had lots of opportunities for professional development both with our U.S. staff and board members and by meeting with other professional groups and individuals to gain insight and experience.
Building Connections, First Experiences
George and Joy took advantage of the long trip from Nairobi to Minnesota to grow as caseworkers and help our organization foster new connections. This was George's first time on a plane, and first trip out of Kenya, and Joy's first trip out of Africa. For those of you who met with George and Joy during their time here, thank you for spending time with them and for allowing them to share their perspectives with you.